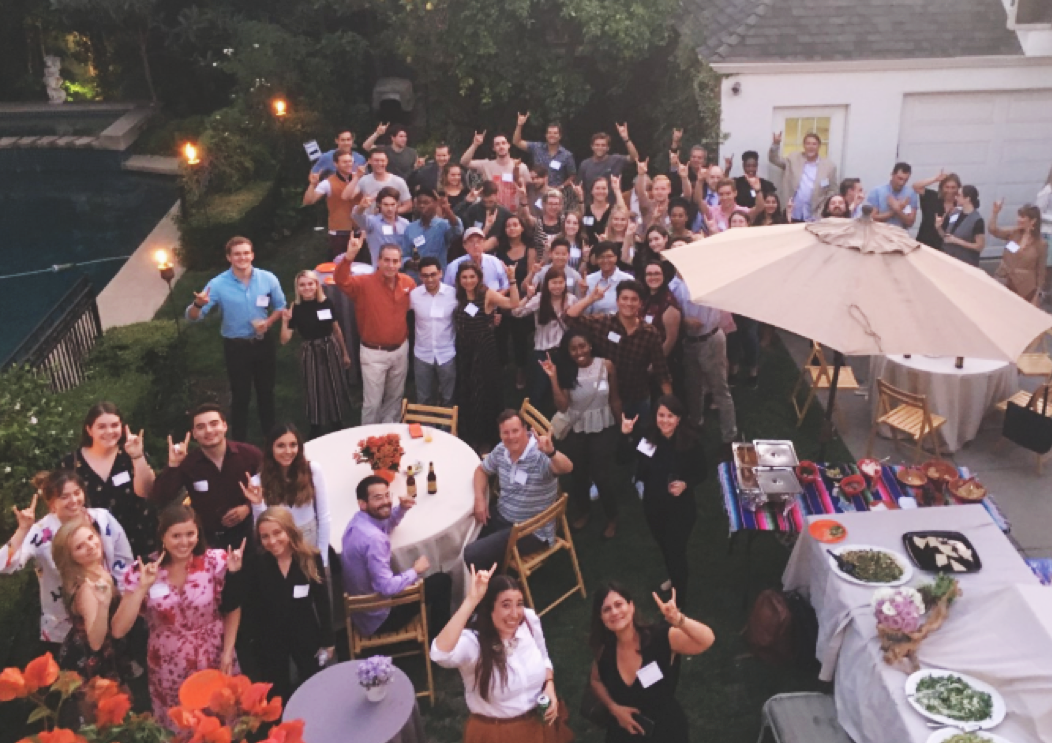 Connect
UTLA Alumni Community
The UTLA experience expands beyond one semester, as UTLA alumni play a pivotal role in the student experience as part of the alumni community. UTLA alumni are invited to Los Angeles-based student events, may provide or receive mentorship, and offer vital connectivity to internship opportunities.
Opportunities for Involvement
Hire UTLA interns
Do you remember how valuable it was to get your foot in the door in the entertainment industry as an intern? If you want to see Longhorns in your place of work and are interested in helping hire UTLA interns learn more about UTLA students working at LA based internships.
Host a Workplace Visit
Alumni, parents and friends play a pivotal role in enhancing the UTLA student experience. If you would like to take UTLA students on a tour of your office (size of group flexible), invite them on set, do a screening and talkback, or more, please indicate your interest on the volunteer interest form, or contact Mira Lippold-Johnson.
Join the Los Angeles Network for Moody College
The Los Angeles Network for Moody College is a distinguished cohort of The University of Texas at Austin Moody College of Communication alumni, parents, and friends, chaired by alumnus Jordan Levin.
See who's involved in the Alumni Network
This network is open to both UTLA and non-UTLA alumni and connects a growing and diverse community of leading Los Angeles professionals in the entertainment, journalism, advertising, and public relations industries. Furthermore, the group offers support to faculty, staff, and Advisory Council members.
As a member of the Network, you can:
Join our online communications platform – to offer advice to UTLA students and recent alumni, connect with LA-based alumni, and post LA-specific job opportunities.
Attend Special Events: UTLA Reunions, game watching, mentor/mentee mixers, screenings, and opportunities to meet current UTLA students*
Join an LA Network committee: Communications, Curriculum, Diversity, Events, and Mentorship
Be a guest speaker at UTLA
Sign up for the alumni network 
Sign Up to Be a Mentor or Mentee
The Los Angeles Network encourages both UTLA and non-UTLA alumni, parents, and friends to participate in the Los Angeles Network Mentorship Program. UTLA and non-UTLA alumni and friends can participate as alumni hosts  or as part of a mentorship program.
For Los Angeles based UTLA students and recent alumni (up to 5 years post-graduation). Pairings are based on volunteer availability, with first-preference given to those who have not been mentees previously.
---