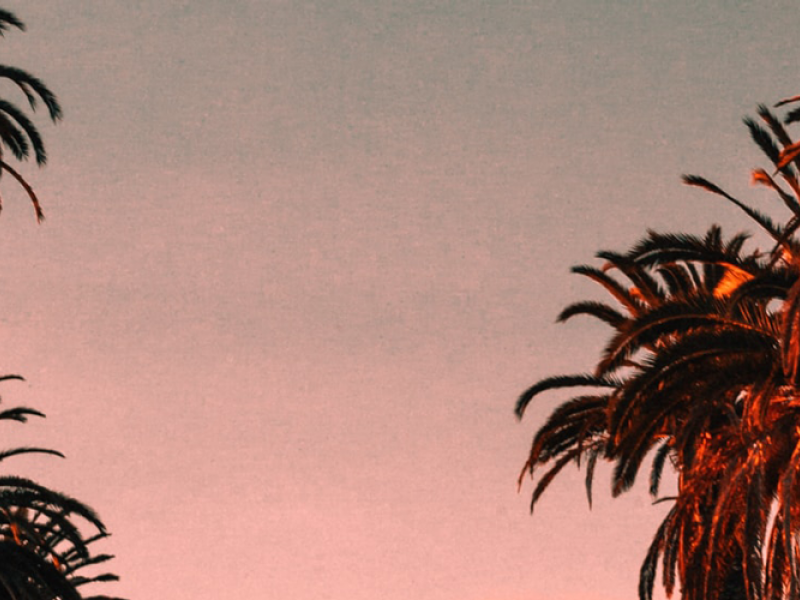 Live in LA
Living in a city as dynamic as Los Angeles means you have the ability to make things happen: Broaden your industry knowledge, be where the action is, and lay the groundwork to cultivate lifelong connections.
By curating a tight-knit network of peers, you surround yourself with a community of like-minded and passionate individuals who help you grow and thrive — and together, you succeed.
---
Housing
Students enrolled in the UTLA program may select from one of two options for housing in Los Angeles:
UT Housing
Students may live in a gated, extended-stay corporate housing facility, Ava Toluca Hills, which is located a couple miles down the street from the Denius UTLA Center where classes are held. Each apartment is a two-bedroom, two-bathroom fully-furnished unit. Four (4) UTLA students are appointed to each unit; roommate requests are accommodated as best as possible. All utilities and internet access are included.
On your own
Students may choose to opt-out of the housing program and secure accommodations on their own in Los Angeles. When doing so, admitted students must provide proof of housing and address information to the UTLA Director no later than the first day of class.
Living in the city
A booming hub for arts, culture, and entertainment, the city of Los Angeles remains one of the most notable destinations on the West Coast.
Transportation
Students are responsible for their own travel arrangements to and from Los Angeles as well as transportation during their stay in the city. A variety of transportation options are available such as rideshares, car rentals and public transportation, but most students choose to bring their own cars.
Safety
Student safety is of the utmost importance to UT and while students are in LA, there are a number of resources available to ensure their safety.
Financial
Students of The University of Texas at Austin pay a series of fees to attend classes at The Wofford Denius UTLA Center for Entertainment and Media Studies: UT tuition/fees, a non-refundable deposit, a program fee, and a housing fee.
ESTIMATED EXPENSES FOR SEMESTER
 
Spring
2020
Summer
2020
Fall 2020
UT TUITION & FEES* (Estimated in-state tuition)
$5,334
(12hrs)
$3,556 (9hrs)
$5,334
(12hrs)
UTLA PROGRAM FEE
Non-refundable Deposit 
$1,000
$1,000
$1,000
Remainder of Program Fee
$3,400
$3,400
$3,400
UTLA HOUSING FEE
Furnished Housing at Ava Toluca Hills (2bed/2bath - 4 Students)
$6,167
$4,500
$5,850
SUBTOTAL
$15,901
$12,456
$15,584
 
LIVING EXPENSES (Estimated in-state tuition)
TRANSPORTATION 
Transportation to and from LA
(Driving own car)
$800
$800
$800
Gasoline in LA ($110/week)
$2,040
$1,320
$2,040
Oil & Filter Change ($35 ea.)
$130
$65
$130
MEALS
Personal Meal
(One meal out per week @ $20/meal)
$340
$220
$340
Business Meal
(One meal out per week @ $50/meal)
$850
$550
$850
GROCERIES
$50/week per person
$850
$550
$850
ENTERTAINMENT
$250/month per person
$1,063
$688
$1,063
MISC.
$100/month per person
$425
$275
$425
TOTAL
$22,399
$16,924
$22,082
*The UT tuition and fees displayed in this table are based on full-time enrollment for resident undergraduate students in the Moody College of Communication and will vary based on a student's status and semester of participation. NOTE: All fees are subject to change.
Fees
UT Tuition and Fees
All participants are billed for UT tuition and fees which are paid in accordance with UT's policy and schedule.
Undergraduate participants are required to register for 12 hours in the fall/spring or 9 hours in the summer.
Flat rate tuition applies for undergraduate students. Graduate students are required to register for 9 hours during a long semester, 6 hours in the summer. Graduate students are billed per credit hour.
To pay your Denius Center registration bill, go to "What I Owe" on UT Direct.
Program Fee
This fee includes a $1000 non-refundable, non-transferable enrollment deposit which reserves a place in the program.
Final acceptance in the program is subject to satisfactory completion of course pre-requisites, GPA requirements and other pre-departure requirements.
Enrollment deposits are deducted from the total program fee.
Payments for the UTLA program fee are made online through the "What I Owe" feature of UT Direct.
Housing Fee
Only applicable if living in UTLA contracted housing Ava Toluca Hills. Payments for the UTLA housing fee are made online through the "What I Owe" feature of UT Direct.
Financial Aid and Scholarships
If you receive financial aid through the Office of Student Financial Services, you may apply your awards toward the cost of participating in the UTLA program. Students are also strongly encouraged to apply for scholarships through the university, individual colleges, and academic departments. Additional information on UTLA specific scholarships can be found here.